North Island, New Zealand
MataMata, May 26, 2004
Yes, I went to see 
Hobbiton
. I mean, the dang movies just came out, so how could I go right by it without checking it out?
It spoils the magic a little to know most of the footage was shot in the same 200 foot radius, just at different angles. And they've taken down all of the exteriors, so all you see is the shells from the original huts.
Kind of silly, but still fun to see.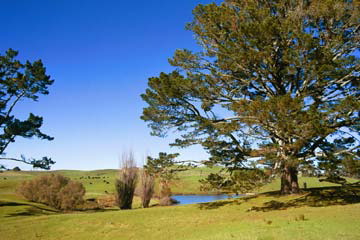 Auckland is so much like Seattle, it is scary. The different districts and shops all remind me of home. We took a ride up the elevator to the viewing deck on 
Sky Tower
 to enjoy the views and see the lay of the land today. Also spent a fair bit of time wandering the city and covered a lot of ground. The hotel was situated just a few blocks north of 
Queen street
, which is the main downtown district, so we covered from there, went east to the waterfront and then up the hill to an area that is sort of like Capitol Hill in Seattle, botiquey and indie.
A note about Sky Tower: it's kind of expensive to ride to the top, but worth it. They've got these glass panels in the floor so you can look down to the city below. Caylo just went right out over that to look down. I had to talk myself into the idea of walking onto the glass. Even though they tell you it's as thick and strong as the steel for the rest of the structure, it's a mental leap to trust that open space. At least for me.
It's fun to be in a city again where I feel like I belong. Speaking English again helps, except it will take me a bit to get used to the vernacular ("take away" for to-go). I am looking forward to driving around the rest of the north island.