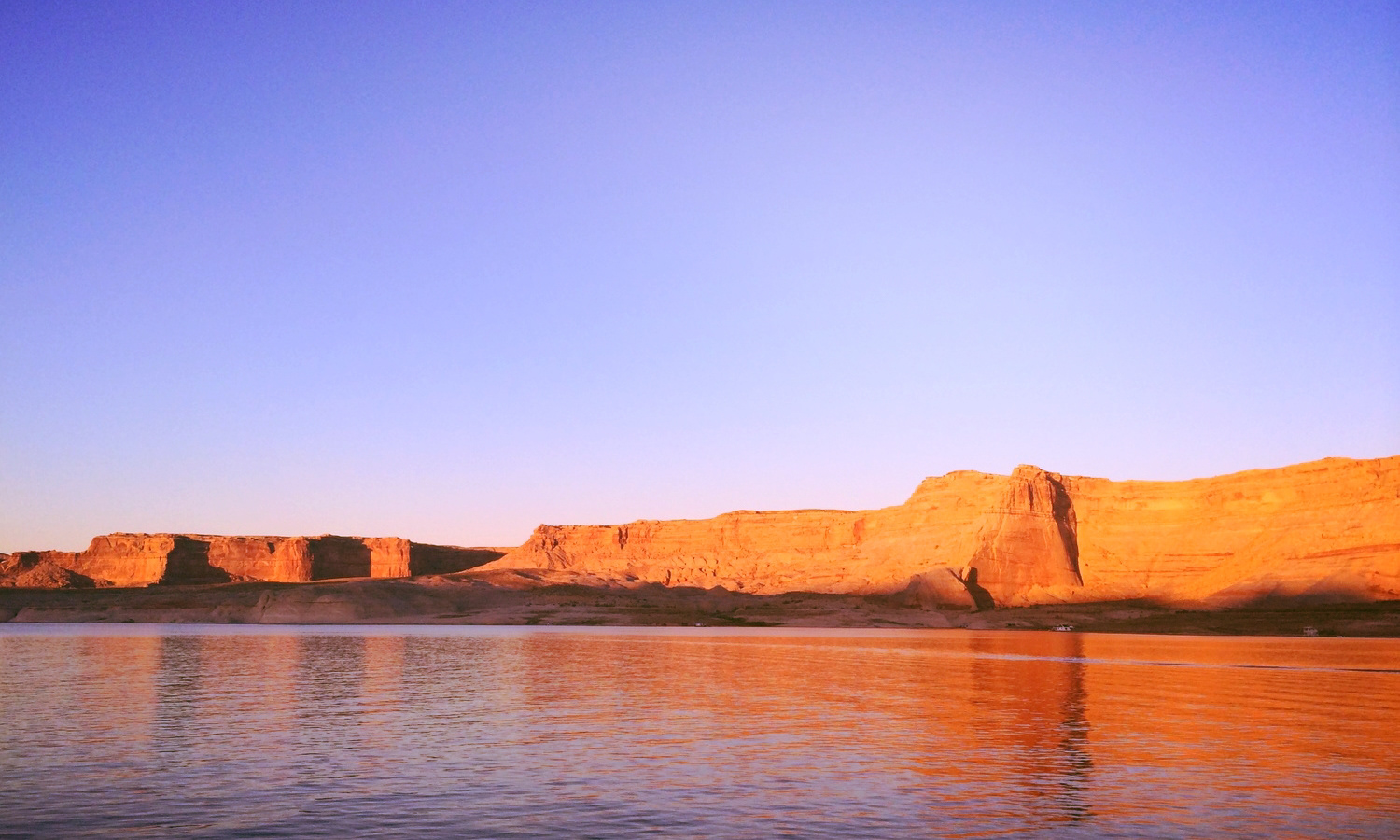 Somehow our reservation got bungled up for our Wahweap Marina houseboat. It was definitely error on our part, but was exacerbated by the fact that after 6 attempts to reserve online initially, it took another 5 phone calls to actually get the reservation made.  So when we got to the marina, our boat was actually 200 miles north.
But the folks there took care of us, and hooked us up with not just a boat, but a bigger boat. Which was an awesome upgrade; so awesome, that now we know when we go back, we need to rent the bigger boat. Everyone had their own room. It had a slide. It had a balcony. It had two bathrooms and two fridges. With six people and nothing but water and shoreline, the extra space is nice. And that you need another 3-5 days because 5 is not enough. You learn a lot about the lake and houseboating in general the first time you go. For example, when the dock crew tells you that you get about 6 miles a gallon, and that's times 2 motors, and you do the calculation on a 70 gallon tank, you think you can only go like 11 or 12 miles, which does not get you very far. Especially when running the generators once a day is required, and that burns 6 gallons an hour and it's about $400 to fill the tank.

Our first three days were basically just tooling around just outside the bay since we were afraid we'd run out of gas since they didn't give us a dipstick to check fuel levels either. At the end of day three when we refilled the tank and had like 80% of our gas still left, we realized that the tank will actually get you a really long ways.
Lake Powell is a devastating example of how drastic the water loss is throughout the country. The map mounted on the wall of the houseboat (with a print date of like 2005) showed a large canyon with a wide outlet that you could take north to many awesome watery places. When we attempted to find said canyon we ran aground on a sandbar, since the water-filled canyon was now land, and the bay to access the canyon was a shallow lagoon.

When they get stuck, and you only have three adults on board, that really means two people have to lift and turn a 50-foot boat to remove it from said sandbar. It is really hot, hard work. Houseboats are heavy. But what would our vacation be without mishap? Someone else's vacation.
Five days of lazing around on a houseboat is awesome. Time slows down and you figure out how to basically do nothing for an entire day. There's no reception. You wake up, have coffee, maybe take a leisurely walk along the shore where you park at night. Read for a while while the kids build sand castles and explore and generally avoid the grownups. When the sun gets hot in the late morning, you leave the shore with the boat to go swim in the deep water. You just kind of sit out there in the middle of the lake for the hot part of the day. Then lunch. Maybe a nap and more reading. Then more swimming.
About an hour before dusk, you find a new place on shore to berth down. The grownups have happy hour while the kids dig a fire pit and get a fire going. You sit on the back of the boat and watch the bats fly around at dusk. Then you hang out on the top deck and watch the stars for hours. Rinse and repeat.