Capitol Reef + Escalante, Utah
It is always surprising to wake up after setting up camp late at night. The surrounds never look the way you mentally mapped them out. We were situated on an intermediate step just outside Canyonlands,  with the high tabletop to the south behind us, and a large gouge about 100 feet to the north. The split sort of rolled off, then dropped dramatically, showcased by the early morning light.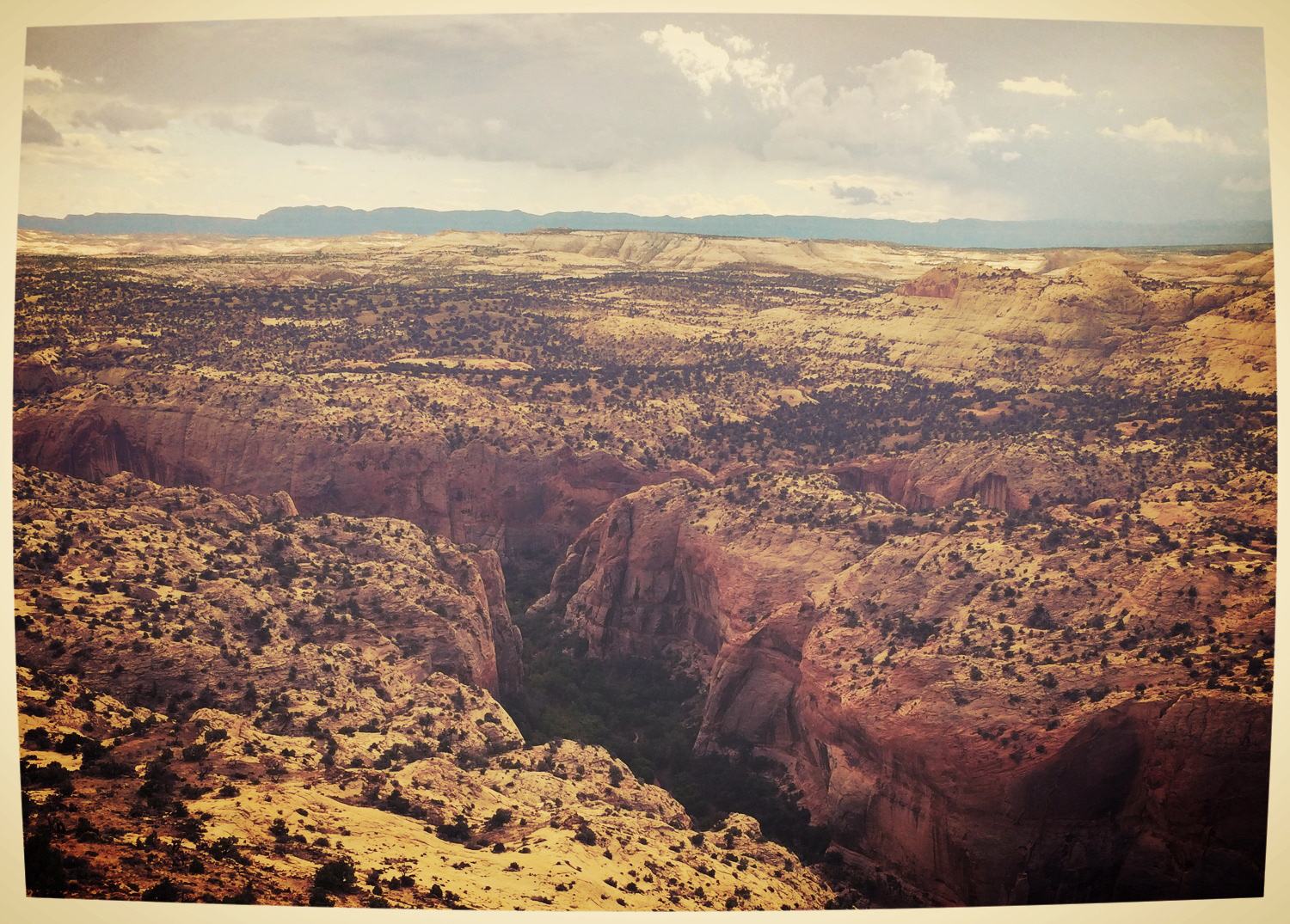 We packed up and left Moab early, with the dark thunderstorm looming on the western horizon. The plan was to head west on the highway, then cut south through Capitol Reef National Park, then cut through off Highway 24 to 12 into Grand Staircase-Escalante National Monument, to camp for a couple days there before heading to Wahweap Marina Lake Powell.
About an hour in, the looming storm became a deluge. We were about 40 minutes outside Capitol Reef, wondering if we were going to just drive right through. The storm was so intense the rain was sheeting like white fog. But about 15 minutes outside the storm broke, giving way to skies that gave no trace of what we'd passed through.

We stopped for lunch in a short grey band just off the road. The kids were mucking around exploring the geography. There were thick layers of muscovite, and fossilized clam and snail shells. Duh, Capitol Reef was a reef.
The road cut off 24 to Highway 12, which is supposed to be one of the most scenic roads in the world. Bookended by Capitol Reef and Bryce Canyon NPs, it winds through the northern end of Escalante through dramatic landscapes. The highway rides a fin called Hogsback above two deep canyons before dropping down to continue through the canyons and panoramas.
And that's about where things went awry. Nothing ever goes according to plan for us.
We had planned to turn off Hwy 12 at Kodachrome Basin, which turns into Cottonwood Canyon Road, a winding dirt forest road that circumvents the trek around Bryce Canyon with a due north-south bypass. The turnoff was just before the tiny town of Cannonville, accessed just across a narrow creek. As we pulled into town, a thick swatch of red-brown covered the roadway. Even before we could slow down, both cars were swirling all over in six inches of muck.
The entire town of Cannonville was covered in a thick layer of mud. The heavy rains that had hit north of there had funneled over the miles, converging in the narrow valley into a flash flood that had run through the main street of town minutes before. Turning onto Cottonwood Canyon Road, we crossed the creek bed, swollen 10x its normal size and toting trees and massive debris. Two miles down, the road was closed. If we'd been 20 minutes earlier, we would have been either stranded or washed downstream along the canyon road.